How do I put PRINCE2 on my CV or LinkedIn?
Congratulations, you've passed PRINCE2 with us!

but how do you put the qualification on your CV or Linkedin profile?
Of course, this procedure also applies for all our courses, MSP, MoP, Managing Benefits etc.
Adding PRINCE2 to your LinkedIn profile
Login to your LinkedIn account and, using the top menu, click on Me and then View profile under your name.

If your Certification section is already active, just click on the Plus sign in the Accomplishments box.

…Otherwise you need to activate the Certification section.
At the top right of your screen, click on Add new profile section, then Accomplishments and the Plus sign next to Certifications.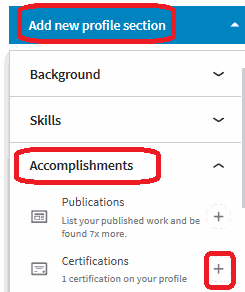 This window will appear:
Certification Name:  If you passed PRINCE2 Practitioner for the first time, or are re-registering type:  "PRINCE2 Registered Practitioner".  If it is the Foundation exam then type"PRINCE2 Foundation certificate".

Certification Authority:   start typing "PEOPLECERT" and then select from the drop down list the company in the sector of Education Management. (If you were certified under PRINCE2 version 2009, our certification authority was APMG-International).

License Number:  You can add credibility with your official candidate number, which is on the certificate you will download.
Time Period:  For the Practitioner level, select the month and year in which you were certified. Then select an expiry date 3 years ahead.

For the Foundation level,  Select the month and year in which you were certified. Your Foundation certificate has no expiry date, so make sure to move the radio button underneath to the right.
Click on the Save button and you are done!
Name section – LinkedIn does not have a suffix section, so
You may also want to add the PRINCE2 title next your name, by clicking on the pen

 and editing your name, either PRINCE2 or P2P (for PRINCE2 Practitioner)
For example, "John Smith, PRINCE2" or "Jane Smith, PMP, P2P".
The same can be done for MSP and MoP

Social Media and PRINCE2 – If you just passed your exam – don't forget to celebrate with us on
Twitter, Facebook or wherever your online social life lives.  Well done, you earned it!!
PDUs for PRINCE2 training
And don't forget to claim your PDUs at the PMI.
PRINCE2 Foundation and Practitioner – 56 PDUs
PRINCE2 Foundation only – 43 PDUs
PRINCE2 Practitioner upgrade – 17 PDUs
PRINCE2 Re-Registration – 17 PDUs
PRINCE2 Foundation and Practitioner Online Learning – 38 PDUs
PRINCE2 Foundation Online Learning – 21 PDUs
PRINCE2 Re-Registration Online Learning – 17 PDUs
PRINCE2 Intellectual Property
A word of warning:  although PRINCE2 is free to use it is a trademark of AXELOS – the Joint Venture company between the United Kingdom Government and Capita. So you can put "PRINCE2 Registered Practitioner" on your CV, no problem.  But you can't use the PRINCE2 logo – that's reserved for the accredited organizations, including OKAZY, a PRINCE2 Accredited Training Organization.
Which course should I take next?
Project Professionals looking to move up a level: