Roles vs Job Descriptions in the Supplier/Customer relationship
On any project there is often conflict when the hierarchical nature of an organization is turned upside down inside a project. This perceived conflict was loud and clear in class this week as I heard 4 people within the same organization announce that they were the project manager for the same project. Each of these individuals had a prior project management certification and the job title of project manager. Each also had staff who reported to them in the organization.
As we began to discuss the Organization theme and the idea that a project should have only 1 project manager, you could see the tension rise. I was challenging a paradigm that they had been working with for years.
This company did most of their project s as a result of winning a contract and as such we needed to separate their own internal project from the project that the company that hired them was undertaking.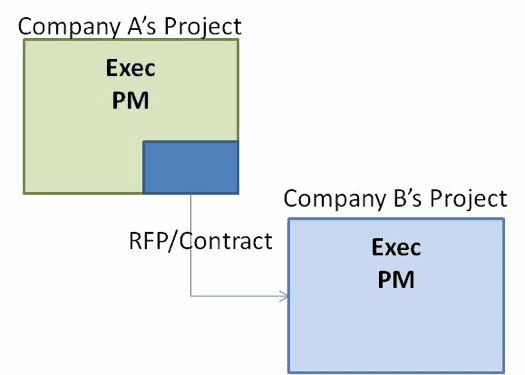 The following diagram shows the relationship between the two projects. Company A has a project underway. It has an Executive, a Project Manager and others as part of their Project Management Team. Company A decides to hire an external supplier to perform part of the work on their project. One or more work packages will become part of the contract the Company B enters into when they are the successful bidder.
Company A has a business case including reasons why they are doing their project. For Company B, the business case includes reasons why they (Company B that is) have chosen to bid on this work. Their reasons could be purely profit driven or could include business expansion reasons such as entering into a new market niche, or creating a partnership with Company A that may lead to future business.
For Company B, the Executive is making decisions on behalf of Company B. Someone from Company A will sit in the role of Senior User to represent the needs of the those who will use the project's products. There is also likely to be someone from Company B sitting in a Senior User role representing the sales/marketing departments or a product manager of some kind.
Either way, the Company B project manager is a TEAM MANAGER when reporting to the Company A Project Manager. It doesn't matter that they have the job title of Project Manager while acting on behalf of Company B.
This conflict between job titles and roles is also alive and well for internal projects as well. I once was a PM on a strategic project where the objective was to establish a financial merger strategy for two companies that were merging. On my team were the Vice President's of Finance for all major divisions of both companies and the CFO of both companies.  On this project each of these individuals were acting in the role of Team Manager.  It was quite a stressful experience asking them to report progress, status and issues to me on a regular basis.  The lack of cooperation was raised as an issue to the Executive who went to them and explained that the PM was in place to help make this project a reality. Not to take over.
On a separate project, as a seasoned PM I played a project support role due to the size and complexity of the project. My role was to integrate all of the plans using software and to report on schedule progress and dependency issues.  An administrative person would not have had the skills necessary to navigate the PM software or understand intricacies of what they were seeing.
I understand it is often difficult for people to give up their well earned job titles. However, understanding the role you play in enabling project success and how your skills are acknowledged in that environment helps to make all projects more successful.