PRINCE2 Agile® Foundation and Practitioner Online
Why should I take the PRINCE2 Agile Foundation and Practitioner Online course?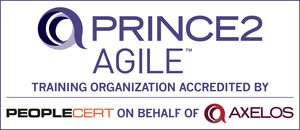 PRINCE2 AGILE online learning gives you a convenient and cost-effective route to PRINCE2 AGILE certification. You can fit the study around your own schedule and continue to work while you add PRINCE2 AGILE to your qualifications in your own time.  Our material is developed by experts and fully accredited.
PRINCE2 Agile represents an evolution of PRINCE2, being the first extension module to the PRINCE2 method. This certification helps you to tailor PRINCE2 for your organization in an agile way. Since the 2001 Agile Manifesto, agile approaches are becoming more popular for many reasons:
Incremental delivery of products
Time box and iterative approach to delivering
A collection of techniques such as daily stand-up meetings, sprints and users' stories
Collaboration working
PRINCE2 Agile describes how to configure and tune PRINCE2 so that PRINCE2 can be used in the most effective way when combining it with agile behavior, concepts, frameworks and techniques.
Can I see a Demo of your PRINCE2 Agile Online Learning?
Yes. Request a PRINCE2 Agile demo and we'll set you up with a preview so you can try out the system first.
Who should take this e-learning course?
Typical job roles include:
Project managers and aspiring project managers
Project team managers and support staff
Managers or program managers
Project management consultants
What is included:
The course includes:
1-year access to our accredited PRINCE2 e-Learning material
Official manual: "PRINCE2 Agile"
Sample exam questions
Dashboard and Module reporting so you can track your progress
PRINCE2 Agile Foundation and Practitioner exams online (webcam required) + Certificate
34 PDUs if you are a PMP
What will I learn:
PRINCE2 Agile behaviors  including collaboration, rich communication, self-organization, transparency and exploration
Guidance  on how to apply agile behaviors, frameworks, concepts and techniques into a PRINCE2 project
Advice  on using agile fundamentals and techniques such as collaborative teams, open communications and stand ups
Mappings  between agile roles and those in a PRINCE2 project.  Where, for example, does a Scrum Master fit into a PRINCE2 project?
What are the course prerequisites:
You should be working in or have a good knowledge of project management.
Having been certified PRINCE2 is recommended before taking PRINCE2 Agile but not mandatory.
What are the course contents:
This is the full PEOPLECERT International PRINCE2 Agile course. It covers the PRINCE2 Agile syllabus to Practitioner level.
Key Learning Points:
PRINCE2 Agile introduction
An overview of Agile
The rationale for blending PRINCE2 and agile
The PRINCE2 journey when using agile
Agile and the PRINCE2 principles
The 7 PRINCE2 themes when using PRINCE2 Agile
The 7 PRINCE2 processes when using PRINCE2 Agile
The "Agilometer"
Requirements
Rich communication
Frequent releases
Creating contracts when using agile
Exam:
Which exams are included in this course?
This course includes the PRINCE2 Agile Foundation and Practitioner exams.
PRINCE2 Agile Foundation exam
This is your first PRINCE2 Agile exam designed to test your knowledge and understanding of PRINCE2 Agile
50 multiple choice questions with 1 mark for each question
Closed book exam
1-hour duration
55% needed to pass so a score of 28 / 50 is required
PRINCE2 Agile Practitioner Exam
Your second PRINCE2 Agile exam tests your ability to apply the PRINCE2 Agile guidance to a realistic scenario. You are required to show that you can analyze situations and make decisions using the standard appropriately. You must pass the Foundation exam to sit the Practitioner.
50 Objective Testing style questions worth 1 mark
Open book exam, but only the official PRINCE2 Agile manual can be used
2.5 hours duration
60% needed to pass so a score of 30 / 50 is required
When are the exams taken?
When you are ready to take the exams, we will send you a prepaid voucher. You will be able to schedule the exams in the portal anytime you want 24/7. A webcam is required to identify yourself to the proctor with a photographic ID and then you can do the exam online from home.
What's the best way to prepare for the PRINCE2 Agile exams?
Set your exam date first. Then work towards it. The material takes 30 hours study to get you to Practitioner level. So, work out how long that is going to take you and then book the exams. This way you have a clear target to aim at. This will help you stay on schedule.
Do I need ID for the PRINCE2 Agile exams?
You must have a photographic ID with you. A driver's license or passport is fine. A work ID, with photograph, is also acceptable.
How long does my PRINCE2 Agile qualification last?
The PRINCE2 Agile Foundation qualification is permanent. The Practitioner qualification must be renewed every 3 years to maintain your status as a PRINCE2 Agile Registered Practitioner. You will have the option of adhering to the Axelos Membership program (Free year 1) and earn 20 CPD points every year to remain current.
What happens if I don't pass a PRINCE2 Agile exam?
If you don't pass a PRINCE2 Agile exam you can do a re-sit. We will send you a new voucher code for an additional fee.
Can I just take the PRINCE2 Agile exams with you?
Sorry, no. We are an Accredited Training Organization for PRINCE2 Agile, so we are not permitted to offer just exams.
FAQs:
PRINCE2 Agile® is a registered trademark of AXELOS Limited, used under permission of AXELOS Limited. All rights reserved. The Swirl logo™ is a trademark of AXELOS Limited, used under permission of AXELOS Limited. All rights reserved.
The Online version of this course is offered by SPOCE, an Accredited Training Organisation of PEOPLECERT International.
PRINCE2 Agile® Foundation and Practitioner Online
Upcoming Courses
April 2020
PRINCE2 Agile online learning is convenient and cost-effective. Get certified in the best of Agile and PRINCE2 at your own pace with e-learning. Includes: 1-year access to accredited e-learning, manual, 2 online exams 24/7 (webcam required).
Find out more »
+ Export Events