Why should I take the Managing Successful Programmes Foundation Online course?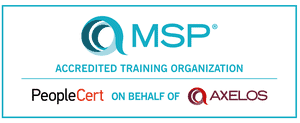 MSP online learning gives you a convenient and cost-effective route to MSP certification. You can fit the study around your own schedule and continue to work while you add MSP to your qualifications in your own time. Our material is developed by experts and fully accredited.
The MSP Foundation gives you a good knowledge and understanding of the Managing Successful Programs framework. This course will introduce you to all the MSP principles, themes and transformational flow. By the end of the course you to be able to work confidently in an MSP program environment. The MSP Foundation exam is included in the course.
Can I see a Demo of your MSP Online Learning?
Yes. Request a MSP demo and we'll set you up with a preview so you can try out the system first.
Who should take this e-learning course?
Typical job roles include:
Program Board / Sponsoring Group members who need a good understanding of MSP
Portfolio / Program Office staff who provide information and standards to the program management team
Business Change Team personnel who assist Business Change Managers in embedding new products into business as usual and realize benefits
Project or Program management specialists working in a program environment including Project Assurance, Risk, Benefit or Procurement managers
Project managers or anyone looking for an introduction to the MSP framework
What is included:
The course includes:
1-year access to our accredited MSP e-Learning material
Official manual: "Managing Successful Programmes"
Sample exam questions
Dashboard and Module reporting so you can track your progress
MSP Foundation exam online (webcam required) + Certificate
19 PDUs if you are a PMP
What will I learn:
Demonstrate an understanding of the MSP principles, governance themes, transformational flow processes, programme information and roles.
State when key MSP documents will be produced or updated
Explain how your program is monitored and controlled using the MSP Program plan and Projects dossier
Know the typical content of MSP program information including the Business case, Vision statement and Program plan
Understand how an MSP program is governed including the Sponsoring group, Program board, Program manager and Program office
Define program stakeholders and know the purpose of stakeholder maps and engagement
Describe your program's benefits and know the difference between outputs, outcomes and benefits.
What are the course prerequisites:
You should be working in or have a good knowledge of project or program management.
What are the course contents:
This is the PEOPLECERT International MSP Foundation course. It covers the MSP syllabus to Foundation level.
Key Learning Points:
An introduction to MSP
What is program management
Why use program management
Types of program: vision led, emergent or compliance
Program impacts – specification led, business transformation or political & societal change
When to use MSP
MSP principles
Remaining aligned with corporate strategy
Leading change
Envisioning and communicating a better future
Focusing on the benefits and threats to them
Adding value
Designing and delivering a coherent capability
Learning from experience
MSP Governance themes
Program organization
Vision
Leadership and stakeholder engagement
Benefits management
Blueprint design and delivery
Planning and control
The Business Case
Risk and issue management
Quality and assurance management
The MSP transformational flow
Identifying a program
Defining a program
Managing the tranches
Delivering the capability
Realizing the benefits
Closing a program
Adopting MSP
Program office
Program Health checks
Exam:
Which exams is included in this course?
This course includes the MSP Foundation exam.
MSP Foundation exam
You MSP Foundation exam is designed to test your knowledge and understanding of MSP
75 multiple choice questions with 1 mark for each question
Closed book exam
60 minutes duration
5 questions are trial questions
50% needed to pass so a score of 35 / 70 is required
When is the exam taken?
When you are ready to take the exam, we will send you a prepaid voucher. You will be able to schedule the exam in the portal anytime you want 24/7. A webcam is required to identify yourself to the proctor with a photographic ID and then you can do the exam online from home.
What's the best way to prepare for the MSP exam?
Set your exam date first. Then work towards it. The material takes 18 hours study to get you to Foundation level. So, work out how long that is going to take you and then book the exams. This way you have a clear target to aim at. This will help you stay on schedule.
Do I need ID for the MSP exam?
You must have a photographic ID with you. A driver's license or passport is fine. A work ID, with photograph, is also acceptable.
How long does my MSP qualification last?
The MSP Foundation qualification is permanent.
What happens if I don't pass a MSP exam?
If you don't pass a MSP exam you can do a re-sit. We will send you a new voucher code for an additional fee.
Can I just take the MSP exam with you?
Sorry, no. We are an Accredited Training Organization for MSP, so we are not permitted to offer just exams.
FAQs:
MSP® is a registered trademark of AXELOS Limited, used under permission of AXELOS Limited. All rights reserved. The Swirl logo™ is a trademark of AXELOS Limited, used under permission of AXELOS Limited. All rights reserved.
The Online version of this course is offered by SPOCE, an Accredited Training Organisation of PEOPLECERT International.
Upcoming Courses
April 2020
MSP Online Learning is convenient and cost-effective. Get certified in Program Management at your own pace with e-learning. Includes: 1-year access to accredited e-learning, manual, 1 online exam 24/7 (webcam required).
Find out more »
+ Export Events