MSP® Foundation and Practitioner Online
Why should I take the Managing Successful Programmes Foundation and Practitioner Online course?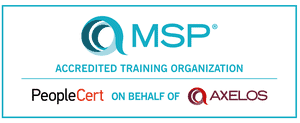 MSP online learning gives you a convenient and cost-effective route to MSP certification. You can fit the study around your own schedule and continue to work while you add MSP to your qualifications in your own time. Our material is developed by experts and fully accredited.
The MSP Foundation and Practitioner course will give you the skills and knowledge for leadership roles in major change programs. As a certified MSP Practitioner, you will be ready to apply the MSP themes, principles and transformational flow to different types of program. You will be able to tailor MSP to different types of program and analyze program situations to make appropriate decisions. As a qualified MSP Practitioner, you will be able to align multiple projects with strategic requirements and co-ordinate product delivery to ensure real benefits for your organization.
Can I see a Demo of your MSP Online Learning?
Yes. Request a MSP demo and we'll set you up with a preview so you can try out the system first.
Who should take this e-learning course?
Typical job roles include:
Program Sponsor, Director or Senior Responsible Owner responsible for delivering the program
Program Managers responsible for the setup, management and delivery of a program
Portfolio / Program Office staff who provide information and standards to the program management team
Business Change Managers or Change Agents who work with the program to embed new products into business as usual and realize benefits
Project Managers who manage projects in the program or want to advance their career to the program level
What is included:
The course includes:
1-year access to our accredited MSP e-Learning material
Official manual: "Managing Successful Programmes"
Sample exam questions
Dashboard and Module reporting so you can track your progress
MSP Foundation and Practitioner exams online (webcam required) + Certificate
31 PDUs if you are a PMP
What will I learn:
Create value by ensuring that program investment is aligned with strategic needs
Lead change by managing complex tasks and multiple stakeholders
Plan and control programs using the MSP transformational flow
Deliver measurable improvements with the tools in MSP's benefits management theme
Manage multiple projects to deliver new capabilities
Reduce uncertainty and aggregate risks and issues at the program level
Identify and communicate the better future which will be delivered by your program.
What are the course prerequisites:
You should be working in or have a good knowledge of project or program management.
What are the course contents:
This is the full PEOPLECERT International MSP course. It covers the MSP syllabus to Practitioner level.
Key Learning Points:
An introduction to MSP
What is program management
Why use program management
Types of program: vision led, emergent or compliance
Program impacts – specification led, business transformation or political & societal change
When to use MSP
MSP principles
Remaining aligned with corporate strategy
Leading change
Envisioning and communicating a better future
Focusing on the benefits and threats to them
Adding value
Designing and delivering a coherent capability
Learning from experience
MSP Governance themes
Program organization
Vision
Leadership and stakeholder engagement
Benefits management
Blueprint design and delivery
Planning and control
The Business Case
Risk and issue management
Quality and assurance management
The MSP transformational flow
Identifying a program
Defining a program
Managing the tranches
Delivering the capability
Realizing the benefits
Closing a program
Adopting MSP
Program office
Program Health checks
Exam:
Which exams are included in this course?
This course includes the MSP Foundation and Practitioner exams.
MSP Foundation exam
This is your first MSP exam designed to test your knowledge and understanding of MSP
75 multiple choice questions with 1 mark for each question
Closed book exam
60 minutes duration
5 questions are trial questions
50% needed to pass so a score of 35 / 70 is required
MSP Practitioner Exam
Your second MSP exam tests your ability to apply the MSP guidance to a realistic scenario. You are required to show that you can analyze situations and make decisions using the standard appropriately. You must pass the Foundation exam to sit the Practitioner.
8 Objective Testing style questions with 10 points per question
Questions are in different formats including classic multiple choice, matching, sequencing and assertion / reason
Open book exam, but only the official MSP manual can be used
2.5 hours duration
50% needed to pass so a score of 40 / 80 is required
When are the exams taken?
When you are ready to take the exams, we will send you a prepaid voucher. You will be able to schedule the exams in the portal anytime you want 24/7. A webcam is required to identify yourself to the proctor with a photographic ID and then you can do the exam online from home.
What's the best way to prepare for the MSP exams?
Set your exam date first. Then work towards it. The material takes 28 hours study to get you to Practitioner level. So, work out how long that is going to take you and then book the exams. This way you have a clear target to aim at. This will help you stay on schedule.
Do I need ID for the MSP exams?
You must have a photographic ID with you. A driver's license or passport is fine. A work ID, with photograph, is also acceptable.
How long does my MSP qualification last?
The MSP Foundation qualification is permanent. The Practitioner qualification must be renewed every 5 years to maintain your status as a MSP Registered Practitioner.
What happens if I don't pass a MSP exam?
If you don't pass a MSP exam you can do a re-sit. We will send you a new voucher code for an additional fee.
If you feel insecure it is also possible to take the Take2 option as an insurance. You can purchase the re-sit in advance for a fraction of the price which represents a discount of 75%. Then, you will be able to re-sit the exam online within the following 6 months.
Can I just take the MSP exams with you?
Sorry, no. We are an Accredited Training Organization for MSP, so we are not permitted to offer just exams.
FAQs:
MSP® is a registered trademark of AXELOS Limited, used under permission of AXELOS Limited. All rights reserved. The Swirl logo™ is a trademark of AXELOS Limited, used under permission of AXELOS Limited. All rights reserved.
The Online version of this course is offered by SPOCE, an Accredited Training Organisation of PEOPLECERT International.
MSP® Foundation and Practitioner Online
Upcoming Courses
April 2020
MSP® online is a convenient and cost-effective route to become a registered Practitioner in program management. Get certified at your own pace with e-learning. Includes: 1-year access to accredited e-learning, manual, 2 online exams 24/7 (webcam required).
Find out more »
+ Export Events