Why should I take the AgilePM Foundation course?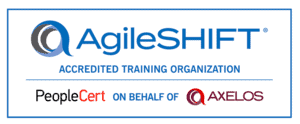 AgileSHIFT is an innovative solution to help prepare the entire organization for transformational change by creating a culture of enterprise agility. By taking a holistic view of an organization, this easily tailorable guidance is designed to help prepare organizations for transformational change and to thrive in an increasingly disruptive and competitive marketplace.
Who should attend this class?
Typical job roles include:
Transformation lead/managers
Change lead/managers
Coach/evangelist roles
Senior positions within Product Management, Portfolio (PMO), Finance, HR, Legal, Sales & Marketing
What is included:
The course includes:
2-days classroom training from an AgileSHIFT Approved Trainer
Official manual: "A Guide to AgileSHIFT"
Accredited course material including sample exam questions
AgileSHIFT exam + Certificate
14 PDUs if you are a PMP
What will I learn:
How to adopt the ethos which underpins AgileSHIFT
Demonstrate why transformation is important
Recognize ways of working that could be incorporated into any transformation
How to be empowered to make small incremental improvements that will combine to create the wider change that the organization requires
What are the course prerequisites:
There are no prerequisites to take this course.
What are the course contents:
This is the PEOPLECERT International AgileSHIFT course. It covers the AgileSHIFT syllabus.
Key Learning Points:
Creating a culture of enterprise agility
A changing context
Enterprise agility
An overview of AgileSHIFT
Making the AgileSHIFT
The AgileSHIFT framework
Enabling agile ways of working across the organization
Organizational strategic alignment
AgileSHIFT principles
AgileSHIFT practices
The AgileShift delivery approach
AgileSHIFT roles
AgileSHIFT workflow
An AgileSHIFT iteration
AgileSHIFT tools and techniques
Exam:
Which exam is included in this course?
This course includes the AgileSHIFT exam.
AgileSHIFT exam
The AgileSHIFT exam is designed to test your knowledge and understanding of AgileSHIFT.
33 multiple choice questions
Closed book exam
45 minutes duration
60% needed to pass – 20 correct marks
When is the exam taken?
Your exam is taken on the second day of the course during the afternoon.
How does the course prepare me for the AgileSHIFT exam?
The course follows the official AgileSHIFT syllabus. The accredited training materials are cross referenced to areas of the exam so that you are fully prepared. During the course, you practice with the latest exam sample paper from PEOPLECERT International.
Do I need ID for the AgileSHIFT exam?
You must bring photographic ID with you. A driver's license or passport is fine. A work ID, with photograph, is also acceptable.
How long does my AgileSHIFT qualification last?
The AgileSHIFT qualification is permanent.
What happens if I don't pass the AgileSHIFT exam?
If you don't pass your AgileSHIFT exam it's possible to do a retake for an additional fee. We can issue a voucher for you to re-sit the exam Online 24/7 (webcam required).
Can I just take the AgileSHIFT exam with you?
Sorry, no. We are an Accredited Training Organization for AgileSHIFT, so we are not permitted to offer just exams.
FAQs:
AgileSHIFT™ is a trademark of AXELOS Limited. All rights reserved. The Swirl logo™ is a trademark of AXELOS Limited, used under permission of AXELOS Limited. All rights reserved
This AgileSHIFT™ course is offered through ATO OKAZY Consulting
No courses available for the moment.Aucune formation disponible pour le moment.